Surge Energy provides one of best LP Gas cylinder solutions. Our primary focus is the production of top-notch, globally renowned steel welded gas cylinders and requalified cylinders to the LP Gas distribution companies around the world. We also provide supplementary services and products that enhance the value and productivity in the industry, such as LPG cylinder tracking facility, smart valves and smart meters to increase the cylinder filling turnover and avoid Illegal fillings.
Manufacturing of LPG Cylinders
Supply of steel welded LPG new cylinders go through a range of processes to ensure quality compliance, safety, durability, aesthetics, and convenience. The processes include de-coiling, straightening, blanking, embossing, deep drawing, trimming and joggling, degreasing, welding, heat treatment, hydrostatic testing, shot blasting, zinc coating, powder coating, curing the powder, vacuuming, valving, pneumatic testing and soap testing, branding, documentation, and dispatching.
We also are very keen about the materials we source from our vendors and have carefully selected the only prime quality suppliers in the world so as to maintain our brand name in the industry for which Surge stands for.
We provide standardized and customised solutions to LP Gas distribution companies for the purpose of domestic and industrial gas fillings and redistribution needs.
Our product range from 5Kg to 50Kg, and most common sizes as below.
5kg15kg38kg
6kg19kg45kg
9kg20kg48kg
12kg22kg50kg
13kg25kg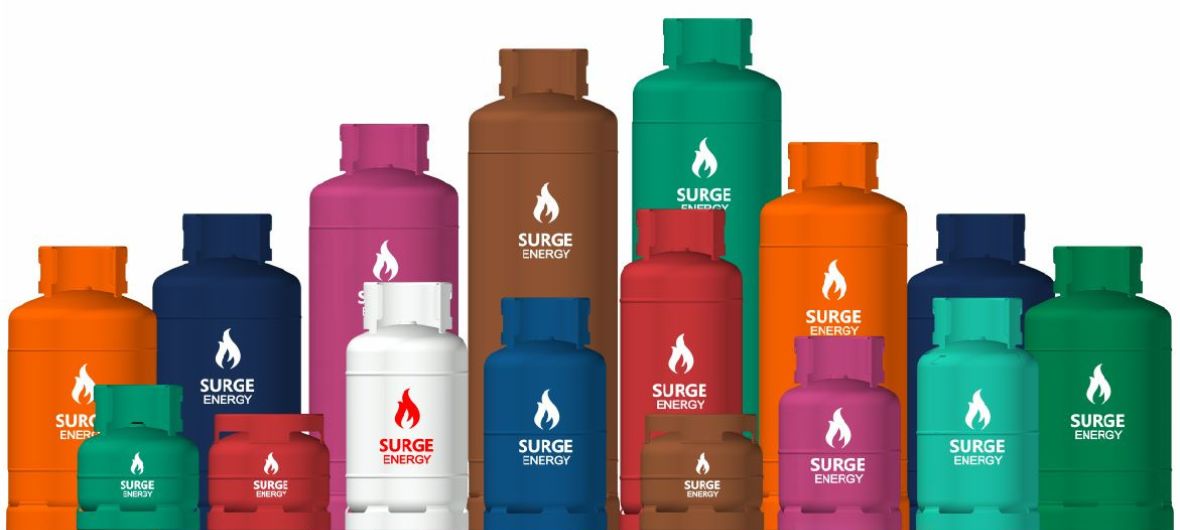 Cylinder Revalidation / Requalification
As per the standards and regulatory requirement, old cylinders should be revalidated after the service period. In Surge Energy process of revalidation, the vetting report will be issued once the cylinder are identified by separate level of repairs. Then the cylinders will go through the required process after customer acknowledgment. Each and every cylinder goes through the process of heat treatment, hydrostatic test and shot blasting. After the surface clearing, it will go through the zinc metallization and powder coating process within standard time. All the required tests will be performed including pneumatic test and bust test etc before dispatch. Cylinders would be requalified as per the Kenya Bureau of standards, KS 9-4 and disqualified cylinders shall go through scraping process according to the standard.
The requalification process requires cylinders to be verified & suitable to be used. Surge provides DOSH certificate that will be issued by an independent third-party inspection body.
Digital Solutions
To further boost safety, tracking of the cylinders and gas consumption, Surge provides digital solutions such as application of Smart Meters Technology, smart valves and other tracking solutions as per client requirements.
The smart meters are fitted securely on gas cylinder valves to enable the transfer of data consistently. The information such as location and quantity of LPG in the cylinder can be tracked.
Smart valves have been introduced to improve the gas filling turnover and stop unauthorized filling using smart valves and the filling heads.
Supplying cylinders with bar codes is possible for the purpose of managing cylinder population easily.